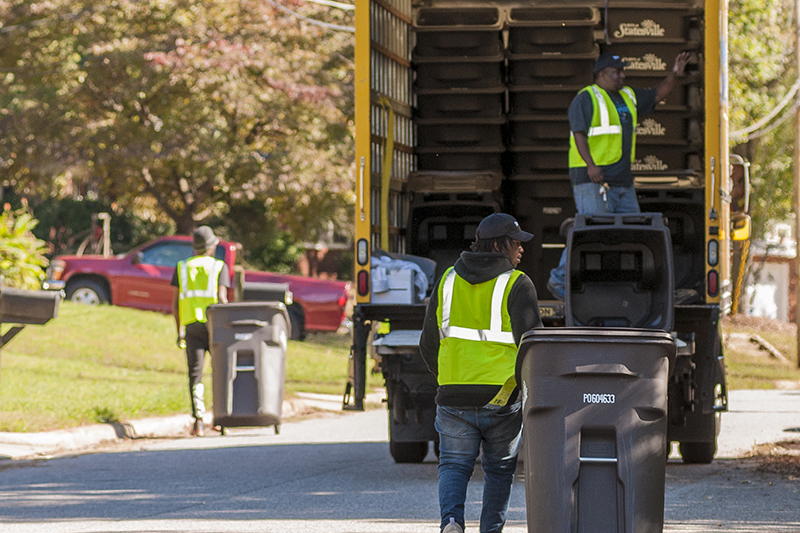 Trash Can Delivery and Verification
During the course of garbage can delivery, we verify that the correct trash container is associated with the correct address through a systematic checking of the cart's serial number and barcode. After delivery, we take date and time-stamped photos of the container(s) at each customer's curb or facility. A visual record provides verification that the desired container was delivered to the correct location so the billing process can begin.
Proven Container Exchange Program
ContainerPros® helps our clients plan and implement their cart exchange programs. We assist in communicating to your customers or residents to enable them to swap their garbage and/or recycling containers for ones that better meet their capacity needs. And our abundant product inventory guarantees that your business customers and homeowners are able to right-size their waste containers.
Why Clients Choose ContainerPros 
We excel in operations planning. When you work with ContainerPros, you can rest assured that your garbage bin delivery and garbage bin exchange programs come off without a hitch. We have all the container sizes and quantities you need as well as the logistics capabilities and professional experience to ensure your project's success. And our cloud-based solutions suite and mobile app keep you informed every step of the way!
ContainerPros uses wastewareTM software allows you to manage, track and verify your container inventory, asset locations, maintenance record and service requests. This software is especially useful during the trash bin delivery and exchange processes. Automation provides accurate tracking of containers, assigning each one to a physical address, as well as monitoring maintenance and letting you know when reordering various sizes of containers is necessary.