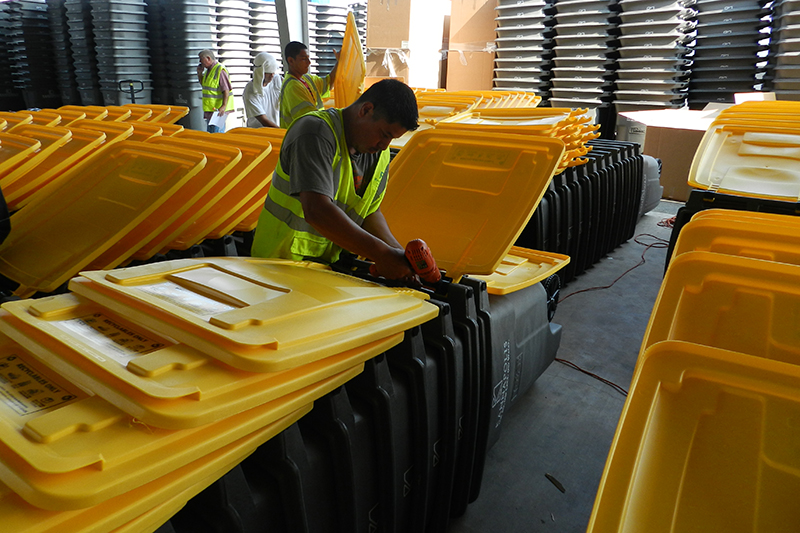 Assisting with Your Project Rollout
When you're ready to roll out a waste program in a community or region, the professionals at ContainerPros® will help implement it. We provide garbage can and recycling bin assembly and distribution services — on time and to your specifications. We're with you every step of the way — from research and planning to assembling and delivering your waste containers. After all, we've been doing it right for over two decades.
The ContainerPros Process in Brief
Step 1. Collaborative Client Meetings
We begin work as soon as your contract is awarded. Our first steps include convening fact-finding, pre-deployment meetings, conducting project analyses and developing the optimal rollout strategy. During meetings in which our team educates and shares ideas with the client, we identify and proactively address potential challenges. Our process is geared toward alleviating any concerns around the project's implementation.
Step 2. Pre-Deployment Planning Process
The experts at ContainerPros help you cleanse your route data during pre-deployment to assist in optimizing your set-out programs. Our clients consistently add numerous customers to their billing after we've examined their route sheets. During assembly-and-distribution projects, billing and customer data are updated to correctly assign street names and house numbers as well as to confirm the type, quantity and size of waste receptacles each customer utilizes.
Step 3. Assembly and Distribution
After our crew offloads and assembles your carts at the designated staging area, we distribute the outdoor garbage cans, stationary waste containers and/or wheeled carts to your customers' addresses. If you wish, we attach your educational or marketing materials to all containers. Using advanced software technology as provided by wasteware, we link your container data to radio-frequency identification (RFID) tags, barcodes, serial numbers and addresses for delivery verification.
Why Clients Choose ContainerPros
At ContainerPros, an assembly-and-distribution project encompasses much more than snapping wheels onto trash bins and pushing carts to the curb. Our fact-finding pre-deployment meetings, project analysis and strategy development facilitate smoother operation and logistics. And our rigorous due-diligence process ensures that our standards and uncompromising service levels are met and our clients' expectations exceeded.